Crafting is great fun for all ages, and an activity the family can enjoy together. Here are some lovely summer craft ideas.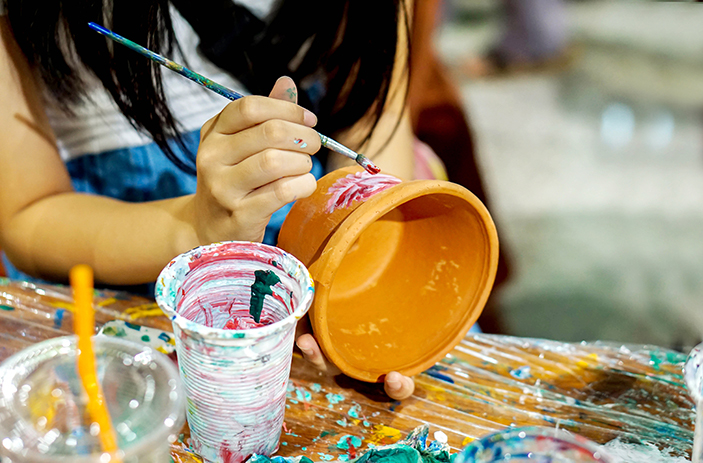 Windsocks
These are so easy to make and look lovely and colourful hanging in the garden. All you need is an old tin can, acrylic paint, colourful ribbons, and glue or strong tape. Paint the can any colour you like and when it's dry, glue or tape ribbons to the bottom and one to the top for hanging.
Colourful key wind chimes
If you have some old keys lying around, you can recycle them to make a fun wind chime. Find a good size stick and paint it bright colours. Do the same with your keys, and then use string to attach them to the stick. Now you have an easy, fun and colourful chime for hanging outside.
Painted flower pots
This is another quick, fun and simple craft idea that will also brighten up your garden. Let your little one's imaginations go wild as they decorate some plain plant pots with paint – you can even make your own flowers to go in them too with some lollipop sticks, felt and any other craft items you have at home.
Melted bead sun catchers
This is a really creative idea, but will need a lot of assistance from an adult. Take some plastic beads of different colours and place a single layer of them in a muffin tin or cake pan. Heat in the oven until melted (there will likely be fumes as the plastic melts, so be sure to open windows or put your extractor fan on). Once they are fully melted, which should take around 15-25 minutes at 190 degrees celsius, take them out and place them somewhere to cool. They should shrink a little bit as they cool, which will make it easier to pop them out. Drill a hole to hang them up or just place them on a windowsill to see the beautiful colours.