Over on our Facebook page, we have just launched our Countdown To Christmas advent calendar competition and we are very proud of it, we would go so far as stating it could be the best advent calendar competition on Facebook!
To highlight our NEW Sudocrem Care & Protect product, a barrier cream for babies, we produced the Countdown to Christmas Advent Calendar competition, offering our Facebook community guaranteed prizes every day to celebrate the countdown to Christmas.
Prizes include over £2,500 worth of Amazon vouchers, thousands of exclusive money off coupons and activity vouchers as well as loads of exciting toys and clothes from a range of leading brands.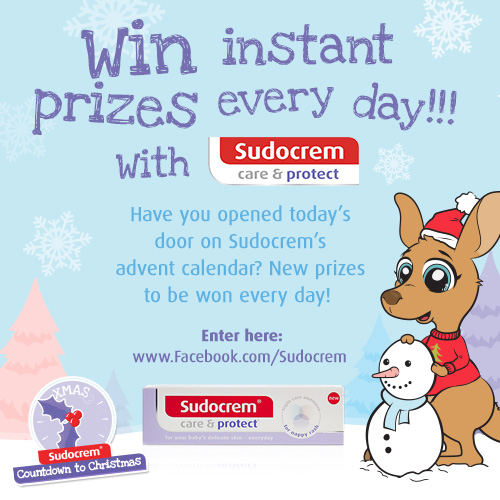 Running every day from the 1st to the 24th of December, to enter simply visit the Sudocrem Facebook page, access the 'Countdown To Christmas' app and select one of the 3,000 available advent calendar doors every day.
You can keep coming back each day of the competition – there is a prize guaranteed every time!
And everyone is given the opportunity to invite up to three friends in order to have another chance at uncovering one of those top prizes!
Sudocrem hopes you have a fantastic Christmas and an amazing New Year!
The Advent calendar competition ends 24th December 2013