Despite being noticeably pregnant, I doubt you'll want to miss out on the glitz and glamour of dressing up for an evening out.  But where to look for the perfect pregnancy outfit that beautifies your bump and makes you feel like the Yummy Mummy you're about to become (or perhaps already are, if this is your second or third pregnancy…!)?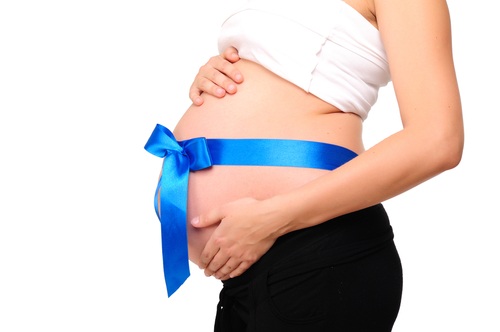 I'm loving the Occasion Wear at Mamas & Papas.  The incongruously labelled Maternity 'Prom Dress' in navy blue silk is stunning and very flattering, with a crossover V-neck and high smocked waistline.  They also have some gorgeous slim-fit Velvet Trousers with an elasticated panel to comfortably accommodate your bump.  Other stylish options are a sheer blue Floaty Top, an embroidered Sequin Top and a soft, jersey Maxi Dress.  All very reasonably priced.
The wonderfully-named doesmytumlookbiginthis.com has some divine cocktail and evening dresses – pregnant or not!  I fell in love with a sassy LBD – the asymmetric Black fringe hem dress – and an incredible ocean-coloured sequin evening gown with a swishy fishtail skirt, which made me think of a pregnant mermaid, impossible as that might be.  They even offer a hire service if you'd prefer not to buy.
And maybe Kate Middleton's engagement dress has influenced me here but I adore this Cobalt Grecian Dress from cravematernity.co.uk. Feminine, floaty and a stunning shade of royal blue.
For more ideas on evening maternity dresses, try Asos.com or simplymaternity.co.uk.