While the great British weather can be unpredictable, summer can bring stifling heat and it can be a worry when you have a baby you need to try and keep cool. Even in the shade and when the sun goes down at night, the hot weather can still cause discomfort, overheating and restlessness for little ones.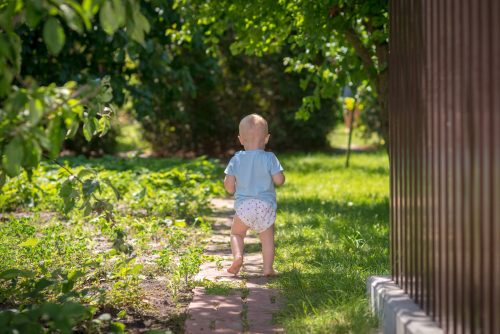 Here are five ways to help keep your baby cool this summer.
Cool water
Whether a paddling pool in a shaded part of the garden or a bath before bedtime, water is a good – and fun way – of keeping children cool. Of course, any water play needs to be done under careful supervision. Letting babies air dry rather than using a towel can help, and also encourage quiet play to help avoid overheating.
Keep the sun out
Closing blinds or curtains during the day can help to keep your child's bedroom cool – perfect for nap times and for keeping the temperature comfortable when it comes to bedtime. Using a fan will circulate air around the room, but be careful they don't get too chilly through the night. Use a nursery monitor to keep an eye on the temperature in your baby's room – the ideal for a comfortable night's sleep is between 16C and 20C.
Minimal clothing
Both during the day and at night, keep clothes and bedding to a minimum. Loose-fitting clothes are best, or even just a nappy. If you find baby is kicking covers off in the night, try using a single, well-secured sheet (ensuring it can't get loose and cover their face or get tangled up at night) and a nappy. Also avoid synthetic fabrics, as they trap heat. Loose, natural materials like cotton or muslin are best. Also give babies as much nappy-free time as you can.
Staying hydrated
Keeping baby hydrated is important all year round, but even more crucial in the summer heat. Offer liquids frequently, particularly if you are out and about, and keep them chilled in a cool bag. If you're planning on a longer day out, you could freeze liquids beforehand and they will stay nice and cool as they melt.
Pram comfort
A portable fan is a good way to keep baby cool in their pram while you're out and about. You can get ones that attach to the frame and have a bendable arm, so you can adjust to the perfect position. Always use a sunshade on your pram and, whatever you do, don't be tempted to cover the pram with a blanket to keep the sun out. This is highly documented as extremely dangerous, causing the temperature in the pram to soar, putting your baby at risk.