American mums and dads are noticing a trend in their preschoolers…they're sounding less like them, and more like…Peppa Pig. In fact, the phenomenon is so widespread it's got its own name: "the Peppa effect".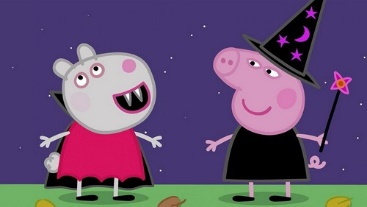 According to Romper's Janet Manley, her little one suddenly began referring to her as "Mummy" (not Mommy), after spending an airplane flight watching reruns of the cheeky Brit piggy in action.
This accent adoption doesn't just favour the British, either. Parents have also been concerned about Dora The Explorer teaching tots Spanish before they've mastered their English mother tongue, whilst others have criticised the influx of cheap, imported US kids shows altering the way children across the pond speak.
But does 'the Peppa effect' stick?
According to experts, no. What's more, the effect is hardly a bad thing, either.
Speech and language pathologist Melissa James explains how it's merely an indicator of kids' enviable ability to assimilate new languages. "Their brains are ripe for the learning of language and it's a special window of opportunity that adults don't possess," says James.
"When a child, two, three or four, is watching a show with a British accent and hears [words] for the first time, they are mapping out the speech and sound for that word in the British way."
The young brain is malleable, and it's for this very reason that toddlers and the preschool set are susceptible to sponging up new ways of thinking. It's an incredible thing, and something parents should think about capitalising on—exposing their children to legitimately learning a second language.
And while experts reassure that TV shows won't have add confusion to kids' primary language acquisition—"it's really unlikely that they'd be acquiring an entire second dialect from just watching a TV show," says Dr, Susannah Levi, associate professor of communicative sciences and disorders—being open to sources of multiple language learning is actually linked to cognitive and social development.
Time for a bit of Dora?
Via Motherly.