Weaning your baby can strike fear into the hearts of otherwise confident new mums.  Common concerns range from a baby choking to worrying about getting the right mix of milk and solids.
And when you've overcome those worries, you'll be wondering what sort of recipes you should be making your baby!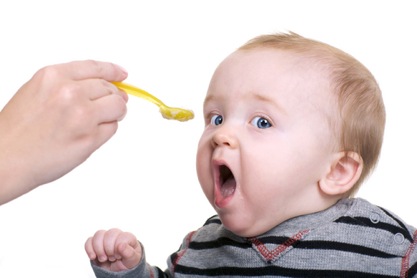 Most health visitors and baby books advise introducing your baby to solids with a little baby rice mixed with their usual milk (whether that's warmed formula or a little expressed breastmilk).  This is a fairly easy transition to food as it's the same flavour as the milk they're familiar with but just a thicker texture.  They might splutter a bit at first but it's very rare for them to choke on baby food.  Even when they start chewing on rusks and fingers of toast, they might occasionally get a few crumbs stuck but will quickly learn to swallow or cough it up.  Just be watchful and never leave your baby alone while they're eating.
After a few days of trying baby rice, you might like to give your baby some simple fruit purees.  Poached pear is a great favourite and mashed banana is wonderfully simple (especially if you're eating out).  It won't be long before your baby is then ready to try more adventurous flavours and textures so just go wild and experiment with a range of different foods.
There are plenty of recipe books with any number of nutritionally sound and deliciously designed purees and meals, to walk you through the weaning process.  Two such bibles that I relied upon were Annabel Karmel's Complete Baby & Toddler Meal Planner (what mother doesn't have one of her cookbooks?!) and Gina Ford's Contented Little Baby Book of Weaning (I'm not normally a fan of hers but the weaning book was fantastic).  Both had some interesting nutritional advice and some really tasty recipes that were easy to cook.
Alternatively, leave the salt out of the food you cook the rest of the family and puree leftovers for your baby (salt is a major no-no for children under 1 as their kidneys aren't mature enough to cope with it).  An indispensable bit of kit for this transformation is a food grinder (like Munchkin's, £8.97 from ) which reduces pasta, vegetables and even meat into easy to swallow pieces.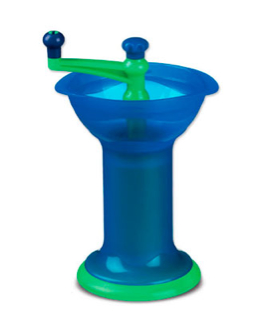 Other essentials include a long-handled spoon (Munchkin do a set of 6 Soft-Tips for £3.47), as well as some that are temperature-sensitive (such as the PVC & phthalate-free travel spoons by Brother Max.  Suction bowls can be useful too and again, those funky people at Munchkin have provided a great solution with their set of 3 nesting suction bowls in zingy colours and contrasting lids (£7.97 for 3).  Lastly, don't forget to have a mountain of bibs on standby.  After all, what's the old saying…?
Eat, drink and be messy!