Babies are expensive creatures.  They might not care whether their blanket is cashmere or cotton but they still require an awful lot of kit for such tiny beings.  Babygrows, hats, socks, nappies, sleepsuits, play mat, cot, pram, car seat, papoose, toys.  It all adds up.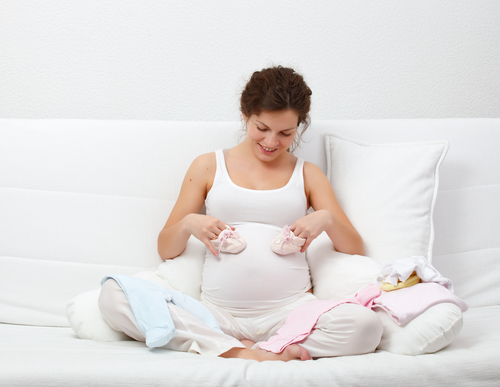 So what do you do with all that STUFF when they finally outgrow it?  Most of the time, your child outgrows something long before it's actually worn out.  In many cases, I've packed away clothes which still look brand new and have years of wear left in them.  Even the buggy which has had five years of use, between two children, could easily last another five years.
If you're feeling charitable, you could just pass things on to a friend or charity shop.  But given that children don't get any cheaper as they get older, it helps if you can trade in some of their outgrown kit for new.  Even if you sell the old clothes or equipment for less than half what you paid for it, whatever you make can go toward their new shoes, books, winter coat, swimming lessons etc.
eBay is an obvious starting point but be aware that there will be fees to pay, as a percentage of your sale price.   It can also be fairly time-consuming snapping shots of each item, uploading pictures and writing a winning ad for whatever you've got to sell.
It's worth saving a template and just altering minor details but make sure you check the category you're selling in each time (e.g. Boy's Clothes; Baby etc).  I've found that designer stuff (such as Petit Bateau, Oilily, Catimini, even Boden) sells fairly well but it does seem to be more of a buyer's market.  A friend of mine has been very successful in selling bundles of clothes on ebay – ie: 'Bundle of Boy's Clothes, mostly Gap, age 6-12m.' Certainly, clothes and toy bundles cut down the hassle factor of detailed descriptions and photos.  I always charge postage on top of the sale but try to keep it reasonable as buyers are rightly outraged by extortionate P&P.
You might also be lucky to have a local website that runs a similar scheme.  On the Isle of Wight, where I live, we have the appropriately named Wightbay.com.  It's completely free to sellers and most buyers will collect, so you don't even have to fork out for postage.
There are various second-hand children's clothing websites, such as Sellyourbabyclothes.co.uk .  Send them your old baby clothes or good quality baby equipment, they'll price it up and market it for you, paying you a percentage of the profit.  However, the percentage they usually claim is quite heavy (often around 50%).  But then, they are doing all the hard work for you.
Out in the real world, look for good quality second-hand clothes shops.  Some have  baby sections and some are dedicated just to children.  This is a great way of moving all your outgrown stuff on, without the headache of sorting things through yourself.  Ask what percentage you'll receive as all shops differ.
Most NCT branches hold Nearly New sales once or twice a year.  This is initially quite labour intensive as you have to make sure every item is on an individual hanger and clearly labeled with age and price.  But at least you don't have to worry about the selling bit.
The NCT name brings in lots of child-oriented punters and NCT volunteers run the sale.  40% is donated to the charity and you get a cheque for the rest, as well as any unsold clothes.  I've found you have to price things very competitively to sell but it's nice to get a cheque for the lump sum a few days afterwards, plus it feels good to give back to such a useful charity.
There are also garage sales and car boot sales to try.  This is undoubtedly a good way of clearing the attic but be prepared to sell items for bargain prices or cope with haggling.  You'll also have to get up very early in the morning.  Don't forget the bacon sarnie!
Finally, should you sell absolutely everything…?  When I was having a major clear out recently, I found there were some precious or poignant items that I just couldn't bring myself to move on.  A beautiful smocked dress my brother had sent over from Hong Kong.  A gorgeous Oilily outfit my mother had chosen.  The first babygro my daughter had ever worn.  Tiny cashmere baby bootees.  For now they've gone into a box in the attic.
But when I have the time, I intend making a memory box for each of my children – with perhaps just a scrap of a material from a favourite outfit, a square from a treasured blanket, a photograph of their first pair of shoes.  And possibly a box frame (such as these from www.coxandcox.co.uk) with something tiny inside – the bootees or first babygro perhaps.
After all, it's the memories that are precious, not the things themselves.  And maybe then, I'll be able to move on that last box in the attic.