When it snows at Christmas, something magical happens… it's like a Christmas card, a festive film and a snow globe all rolled into one. As it falls, the excitement builds for both parents and children.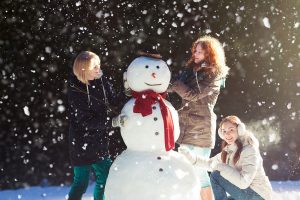 However, it's rare that we see snow at Christmas in the UK. Last year there was an abundance of snow across the country during winter but, unfortunately, not on Christmas Day itself. In fact, the last time snow fell on December 25th in the UK was in 2010. The thought of waking up to snow on Christmas morning really is the stuff of fairy tales – it happens in all the films!
So why do we all love snow so much? Because it's great fun! Part of that is probably because it doesn't happen very often, but it just creates such a wonderful sense of magic for people of all ages – none more so than children.
Snowballs
The innocence of a snowball fight is just delightful! Whether it's between family, with your friends or by joining in at your local park, it can be a great experience – just remember to wrap up before!
Snow angels
When else are children allowed to roll around on the floor, flailing their arms and legs about getting wet?
Snowmen
Why rolling snow up and forming it into a random shape that resembles a person and sticking twigs in for arms and a carrot for a nose is such an amazing thing, who knows? But it is! And watching it slowly melt over the following days is almost as exciting as making it in the first place!
Snow days
Getting a day off school to play in the snow is quite possibly the most exciting thing that can ever happen to a child. And, of course, adults too! A whole day dedicated to messing around in the snow is the thing of dreams!
Sledging
If you haven't got a sledge stowed away from a previous year, it may be worth dashing out to get one at the first sign of snow. Even if you don't own a sledge, when it snows, it seems to bring people together and people seem more than happy to let others have a go on their sledge, whizzing down any slight slope or hill they can find.
Memories
As adults, we may have concerns about disruption to transport and other mundane things, but we're also as wrapped up in the wonderment of the crunch of snow underfoot as our children are. The all-encompassing white blanket of untouched snow on a winter's morning can instantly take us back to our own childhood.