It's been a long while since our favourite honey-addicted, yellow, mellow bear went on an adventure with his Hundred Acre Wood gang. With this year marking the Queen's 90th birthday and 90 years since Winnie-the-Pooh's first publication, it's the perfect time to bring Pooh back, to help celebrate a momentous b-day bash – London style!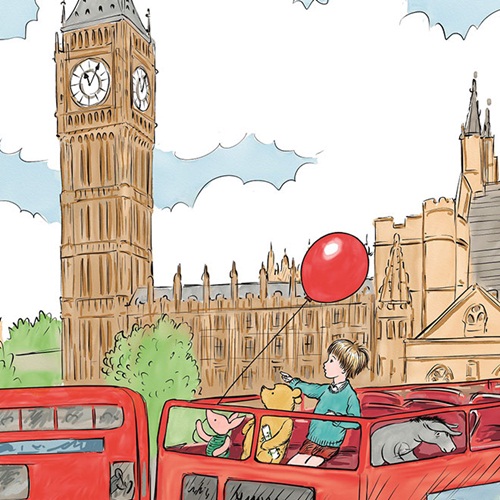 Winnie-the-Pooh and the Royal Birthday is the newest story featuring the motley troupe of playthings (plus Christopher Robin, of course). Written by Jane Riordan and illustrated by Mark Burgess, the tale follows the journey from the magical woods all the way to the bustling, equally magical, city of London – where Pooh and pals deliver a thoughtful birthday present to the Queen at Buckingham Palace.
The story begins as follows:
"Bear," announced Christopher Robin solemnly. "That hum is fit for a Queen. That hum shall be The Queen's present. Owl shall write it out and you and I and Eeyore shall deliver it to Buckingham Palace. And Piglet must come too because London is a very big place indeed and even small animals, if they are very good friends, can make everything alright."
Join in on the sightseeing as the cuddly tour group traverse through Trafalgar Square, past Big Ben, and other iconic spots.
While this may be the first depiction of Pooh and the Queen's meeting, it is known that the 1926 A.A. Milne book, Teddy Bear and the Other Songs from When We Were Very Young was dedicated to Princess Elizabeth upon her birth.
The audio adventure is narrated by Oscar-winning actor, Jim Broadbent:
"I have been a fan of Winnie-the-Pooh since I was a boy, in fact I named my very first and much loved teddy 'Pooh' and that can only have been after the A. A. Milne character. I've loved being part of this story to celebrate The Queen's 90th birthday and Winnie-the-Pooh's 90th anniversary; it's been an honour to narrate such an iconic story and I want to wish both Her Majesty The Queen and Winnie-the-Pooh a very Happy 90th!"
Whether a print version will be made available is yet to be decided (sorry, collectors!), but for now, check out the FREE downloadable version here.