As the saying goes… 'Not all heroes wear capes'. And this couldn't be more apt when it comes to motherhood. But, sometimes, being a hero is exhausting. From looking after your child's every need, to keeping the house in order – and maybe even trying to squeeze work in between – being a mum can really be the toughest job on the planet.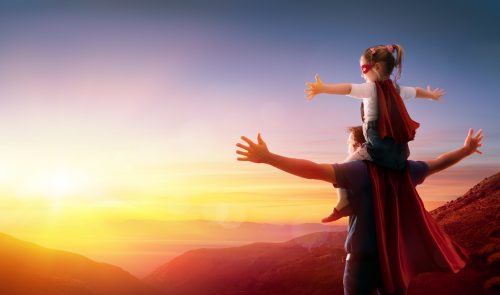 So, your house isn't immaculate… who cares? Perhaps last night's washing up is still sat in the sink… does it really matter? Maybe you didn't get round to having a shower this morning… surely it can wait until later? You're a mum – and that is the most important job in the world. Don't be hard on yourself for the things you think you should be doing. Celebrate all of the amazing things you are doing! You've brought a child into the world. That, in itself, is a pretty major feat.
Don't compare yourself to others
While social media is a great thing, it can make you question every single aspect of motherhood – the way you look, how you play with your children, what you feed them… Yes, it's great to get tips and hints to help you through your journey, but it can also make you feel inferior. Remember – most people only post the 'good' times, not the rough moments. So your child had chicken nuggets for the second day in a row – they'll survive, and it's by no way a reflection of your skills in bringing up a good, decent human being.
Don't ever be ashamed ask for help
If you ever look back at the past week and it all seems like a blur of nappies, stories, bath times, cold cups of coffee and three-day-old ponytail hair, you're not alone. It's hard to imagine that in amongst all of the chaos, you could possibly even think about time for YOU. But this is so important for your mental wellbeing, your stress levels and the dynamics of your whole family. Don't be ashamed to take half an hour of 'you' time, if you can. Take advantage of your support network – be it your partner, friends or family. No one will think less of you for thinking of yourself for a few minutes!
Let others look after themselves
Looking after a new baby or a toddler is pretty much a full-time job. You don't need to be worrying about other people too. Let older children help you, have a rota for chores, leave the cooking to your partner, let friends down if you don't feel like meeting up or socialising. OK, so you might offend someone along the way, but those who really care about you will understand. It's impossible to do everything – you're only human! And sometimes you will just not feel like doing anything, so do nothing and don't feel bad about it.
Just remember – you'll always be a hero to your child; you don't need to try and be a hero to everyone else.