If you want to travel more, but would like to spend less doing so (and who wouldn't?), then here are some top tips to help you do just that!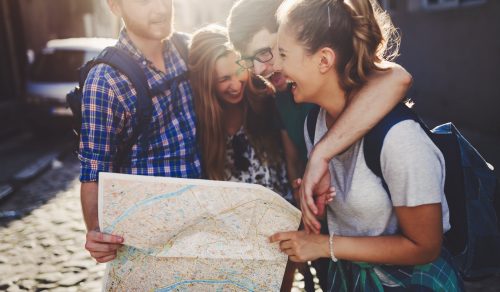 Travel off-peak
It may not be quite as sunny, or it may be that the chance of rain is a little higher, but if you travel to your destination of choice during the "off-season" then you can save a huge amount of money. On that note, always avoid travelling during the school holidays when prices go up!
Stay in hostels
There are lots of different types: party hostels, rural hostels, boutique hostels, and they are far cheaper than staying in hotels or renting a self-catering place. Plus, you get an authentic backpacker vibe by staying in hostels and can easily make new friends thanks to the shared common areas. (By the by, the free Hostelworld app is very useful for finding the cheapest and most highly-rated hostels.)
Collect photos and memories instead of souvenirs
Not only will souvenirs take up a lot of room in your limited luggage space, but they'll also use up your valuable travelling money!
Book in advance
Naturally. The further in advance you can book, usually the cheaper it will be for everything from plane tickets to accommodation.
Make the most of the sales
During Black Friday and the Boxing Day sales, ignore the cut-price laptops and clothes and go straight to the flight sites and holiday sites. It's not just the high street that has sales!
Look up the freebies
Sure there are tourist traps in every city, many of them are popular for good reasons, but there are also lots of amazing things you can do that won't break the bank no matter what your destination is. Also, take the time to Google if certain days are cheaper, or free, to enter on a certain day. (Usually, hostels will have plenty of ideas for fab freebie activities too!)
Balance the cost of the flight against the cost of living
Sure, it might be cheap to fly to Germany, but the food, accommodation and activities won't be so affordable as those in South East Asia or South America.
Embrace the layover
If you want to go to New York from the UK, booking two flights so that you stop over in Iceland can make the overall cost of flying much, much cheaper than booking a direct ticket! Plus, you could stop for longer and get to see a bonus destination!