You know those Monday morning English lit lectures that you never went to? (Who ever decided that 8am lectures were a good idea anyway?) – Well, never fear! CliffNotes is here!
CliffNotes has been bringing study guides to lit students since 1958, and now notes are available via app – perfect for on-train or in-queue cram sessions.
The must-have app for university literature students allows users to access character and theme analyses, plot summaries and interactive quizzes with in-app purchases.
Each study guide comes with two separate review modes that lets you customise your study experience. Prescriptive 'Cram Plan' orders the study guide content to give you exactly what you need to know in the time that you have, and the Full Study Plan provides the study guide's complete content so you can read through at your own pace.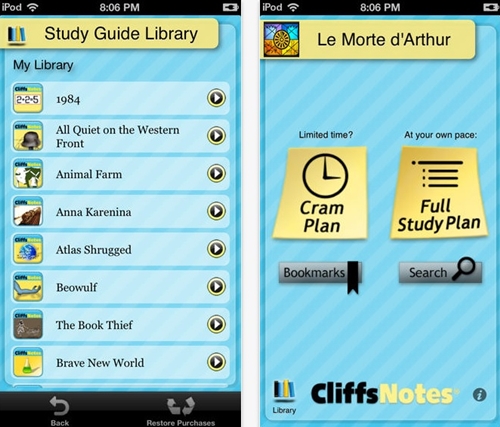 Additional features include: 
Multiple-choice quiz to assess your mastery of the material.
Bookmarking to note important passages for further review.
Interactive character map links character associations and profiles for quick reference.
Audio plot summaries.
In-app purchasing of additional study guides, all in a single app.
Now it might seem sacrilegious for an English major to make use of online 'crib' notes rather than the real thing – first hand genius from your lecturer – but desperate times call for desperate measures, right? And we won't tell if you don't! And if it makes you feel any better, the CliffNotes study guides are written by teachers and educational professionals – not random bloggers or wannabe intellectuals.
Just remember that CliffNotes is an American-based app, so watch out for those good ol' Americanisms.
Visit Cliffnotes.com to find out what books are available in study guide form (there are literally masses), and visit iTunes to download the app.