You're out and about, you need a wee but there is no loo around, or at least none that that you can see. It's an old, boring story and is defined as such because of its annoying familiarity – whenever one needs the loo, there never seems to be one! So a big "well done" to Jake Ruston for creating a loo-finder app.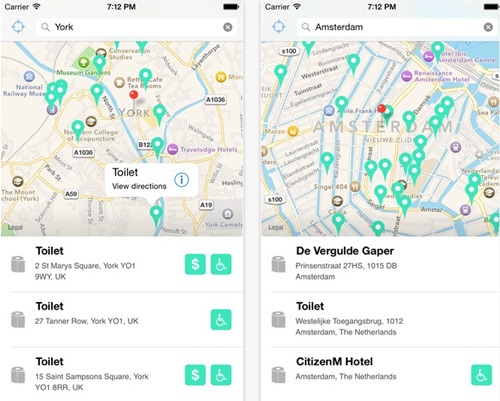 Ruston's app – Flush Toilet Finder – accesses your GPS location to locate all the public conveniences in your area. Flush is based on a global database of 100,000 public toilets; users can then search for a location and pan the Google Maps to see nearby options. Once said user has selected a toilet, the app will provide a list of directions. Alternatively, clicking the Directions button will take a user to the nearest toilet, without the need to search. Users can add public toilets that are missing from the database, and results can be filtered to show those that charge a fee or need a key. Flush also shows toilets with disabled access.
A Computer Sciences student at the University of East Anglia, Ruston was asked by a load of people to include details on toilet facilities in London but, in a stroke of genius, decided to go bigger by including the whole world. It's tough enough to find toilet facilities at home but when you're abroad and don't speak the language…well, it's a recipe for some very wet pants.
And the best news yet, the loo-finder app is absolutely FREE! CLICK HERE (http://itunes.apple.com/gb/app/flush-toilet-finder-public/id955254528?mt=8) to download.