White jeans are one of the big fashion trends for summer 2019. The likes of Alexa Chung, Bella Hadid, and Leandra Medine have already been spotted making the trend their own, and they're certainly a good option when the sun starts shining! Many of us know well the sweaty effect of dark jeans as the clouds clear away and the heat of those rays is absorbed right into the fabric. A light colour will reflect the rays and keep you much cooler.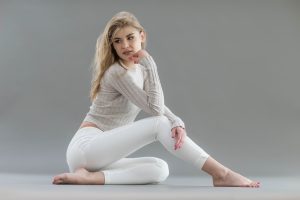 The issue is; how do you keep those white jeans white? Ice cream, barbecue sauce, iced coffee, grass stains…the odds are certainly against you. With that in mind, if you'd like to keep your jeans looking their best, these top tips might be just what you need.
Always separate your whites
This might sound like a no-brainer, but we don't just mean keep your dark colours and light colours separate. If you want to keep your white jeans looking pristine for as long as possible, resolve to wash them only with other white, or possibly also cream, garments. Even pale colours will leak dye to an extent. If needs be, wash your white jeans separately by hand.
Dry outside
When it's nice and sunny out, why not save energy and save money by drying your laundry outside? Even better, the ultraviolet rays from the sun will help to brighten and whiten your whites.
Soften your water
If you live in a hard water area, invest in a water softening system or add a softener to each load of laundry you do. The minerals in hard water can build up on your whites and leave them looking dull.
Try baking soda
If your laundry liquid isn't cleaning your whites as well as you'd like, adding a cup of baking soda to your wash load should help to boost its performance.
Choose a laundry liquid with optical brighteners
Optical brighteners bend UV light waves to showboat blue light and reduce the level of yellow light which your eyes see. This makes fabrics appear whiter.
And finally, if your jeans do get a stain, make sure you wash it out as soon as you can and don't allow it to dry!