They've been around for hundreds and hundreds of years, and applied to a huge number of different people for different reasons. For some a tattoo is purely a form of decoration, for others, it can be a tribute to a person or event in their past, but whatever the reason for the tattoo, you want to be sure that it's exactly right before you take the plunge and get it inked permanently.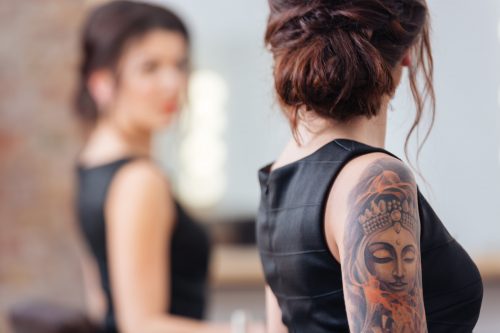 This is where temporary tattoos come in. We're not thinking so much of the kind which we used to get out of vending machines or at school fetes – the ones which you pressed a wet flannel over and which then lasted for a day or two before flaking off. There are temporary tattoos which you can get that last over two weeks, and which are applied with rubbing alcohol and heat.
There are websites where you can upload your own designs, draw your own online, or browse images and fonts from their online libraries. A simple internet search brings up an array of different companies who can help you to create your own works of art which are then shipped out to be with you in a day or two.
Why would you want to try your ink on for size, as it were, before getting the permanent version?
Well, you may discover that you'd rather it was elsewhere on your body, or bigger or smaller. Or perhaps you discover that you don't like not being able to see the design yourself (if the tattoo is on your back for example), or you need it to be higher up on your arm so that you can cover it for work?
If you're thinking about getting a tattoo, it's certainly a tattoo "test-drive" option worth considering.