Father's Day is fast approaching. This year Father's Day in the UK is on Sunday, June the 16th, and if you're starting to panic about what to get your dad as a present (and a present which he'll actually like) these Father's Day ideas may help: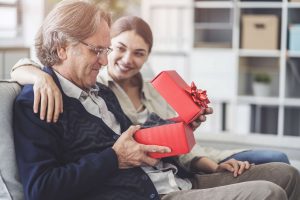 Kitchen Curios
If your dad is a bit of a foodie, and adventurous to boot, why not get him some unusual spice mixes to use in his cooking? Or some sauces or jams he's never heard of (Turkish delight curd anyone?)? Or some specialist cheeses or coffees?
An Old Favourite
Does your dad have a favourite aftershave? A favourite beer? Identify something which you know he uses/eats/drinks on a regular basis and make him a present of some of it. It'll show you know him well, and you know he'll like it. An added bonus – if your family is the type who likes to hoard, it will get used and enjoyed without adding to the clutter!
An Experience
Plenty of high street stores now offer experience days as well as the likes of clothes and homeware. Perhaps your dad might enjoy a speed boat experience, or a wine tasting afternoon, or an evening of comedy.
A Day Out
Presents are lovely, but why not make spending time with your dad part of your present? Take him to a classic car show, or get him concert tickets to see a band or artist that you both like.