Festivals give attendees carte blanche to dress as outlandishly as they like. The general festival rule is: more extravagant and random, the better.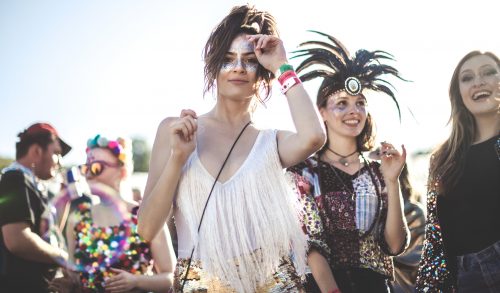 You could, of course, use camping at a festival as a time to take a break from any makeup at all. You're camping in a field, you're potentially covered in mud – embrace the laid-back, au natural vibe. If on the other hand, you want to take the opportunity to go mad and do something colourful and different, then why not try one of these:
Face painting
It sounds obvious, but there are three big advantages to going for face paint rather than makeup. First, you can get someone else to do it (there're always at least a couple of people offering face painting services at a festival). Two, you don't have to carry any makeup with you in your already over-full rucksack. Three, you get to go back to your childhood and be a tiger or a butterfly all day.
Mismatching
Take different colours of eyeshadow with you and daub a vibrant colour across your top lids, and a different vibrant colour around the bottom of your eyes. Instant impact.
Go metallic
Skip the lip gloss (your hair only gets caught in it while you're partying anyway) and get your foil-finish metallic-effect lips on! Team with a metallic eyeliner which you can use to draw patterns near your eyes and on your forehead.
Glitter!
Glitter on your cheekbones, nose, and collarbones looks great. Or give yourself thickly-packed glitter eyeshadow across your eyelids. Just make sure that you're using environmentally friendly glitter.
Temporary tattoos
You can get metallic ones, or ones which look like the real thing. Placement is everything for these. Go bold and place them across your cheeks, or running from your forehead down your nose. If you've gone for black temporaries, match it up and apply some black lipstick too!