If you're trying to save money because of the financial strain that lockdown has put on us all, but you want a wardrobe update to cheer you up and celebrate the arrival of summer, then these top tips are for you.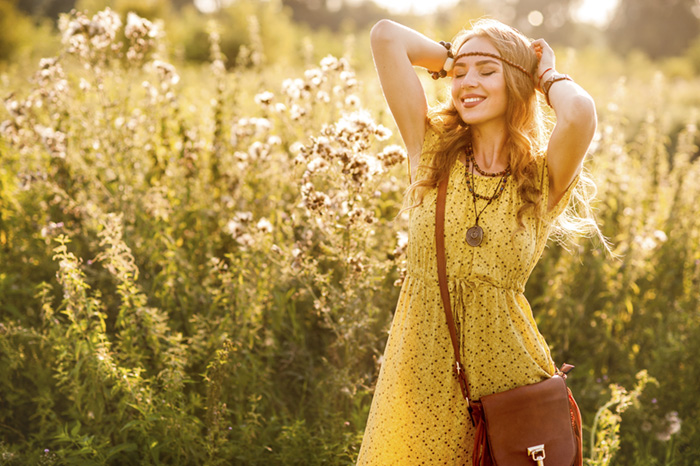 Tie-dye or dye
If you have an old t-shirt that's seen better days – white t-shirts that have gone distinctly grey maybe, then a spot of tie-dye could be the answer. Tie-dye clothes are back in fashion and you can easily achieve it yourself using a packet of dye, some elastic bands, and a touch of creativity. (N.B. WikiHow has some great tutorials that will help.)
Dig deep
To the back of your wardrobe that is. Find those items of clothing that you never wear and try pairing them with your favourite pieces of clothing. Vintage is in, so get that old skirt out and wear it with a modern bra-let and white shirt. Or, bring some life back to an old sundress by wearing a crop t-shirt over it and putting on some statement sunglasses.
Accessorise
Statement sunglasses are one idea, but belts, scarves, big jewellery, and bags are other accessories that can make an old outfit look as good as new. A simple black t-shirt and jeans combination can look different every time if you put different jewellery and belts with it. Layer up those accessories!
Customise 
You don't have to be a wizard with a sewing machine in order to customise your clothes. Get some iron-on adhesive tape and a wide velvet ribbon and give your old jeans an up-to-date side-stripe without ever picking up a needle! Or get hold of some iron-on fabric transfer paper and print your own designs out to add to jackets, bags, t-shirts, or whatever you fancy.
Get your scissors out
If you have an old pair of jeans that you've trodden holes into the bottoms of, but which are otherwise still a great pair of jeans (and super comfy now that you've worn them in!), turn them into a pair of shorts. Just cut to length and fray the edges. Instant wardrobe update! Maybe take it one step further by using a piece of sandpaper to give them an aged look on the back pockets.
Say it with letters
Slogan sweatshirts are on trend right now, and you can make one quite cheaply by buying some iron-on letters from a craft site and applying them to a plain old sweatshirt. This is also a great way of making the trusty loungewear we've been living in recently, more fashionable for the outside world.