Going out for a night of clubbing and a few drinks is, in general, a fun thing to do for a party. What if clubbing isn't your thing though? Or you want to do something really different for once – what do you do? Well, why not try one of these unusual ideas?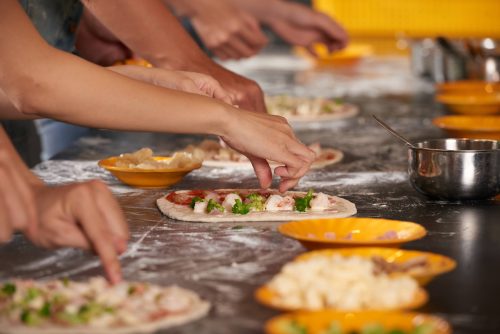 Burlesque Dance
Get your sass-queen on as you're taught a routine with fans and feather boas. Frilly knickers optional. Giggles for sure. (Pro tip: The worse you do it, the funnier it is.)
Bubble Football
It's football, but you're encased in a giant inflatable bubble down to your knees. It's harder than it looks, but great fun, and very bouncy!
Extreme Dodgems
It's like a cross between the dodgems at the fair, and rally car driving. You get into all the racetrack safety gear, step into a modified stripped-down old banger, and tear around a race track. If you 'bump' trying to overtake, no worries.
It's A Knockout
You can team up to take on the retro TV game show. If giant inflatables are your thing, this party idea is a must.
Pizza making
Learn how to toss your own dough and create a delicious pizza masterpiece. Funny and delicious!
Laser tag
Like paintball with the outdoor terrain and full-on action, but without the pain and the expense of buying hundreds of paintballs!
Quidditch
If you wanted to go to Hogwarts and be part of the Quidditch team, now you can. Sort of. It may not involve flying brooms, but it's a great experience nonetheless. Dressing up optional, but good fun.
Treasure hunt
Now with a modern twist. The clues are given via text message and see you battling with cryptic clues to identify certain items and scavenge around to win the hunt. Various cities have a version, and it's a great way to explore a new city.
There're definitely some of these that need adding to a must-do list!