A quarter of women over the age of thirty still experience acne, and plenty more women (and men) under thirty experience it too. It's often seen as a "teenage affliction", but it's really not. It's also not something to be ashamed of – a fact which plenty of bloggers, Instagrammers, influencers and celebrities are keen to make clear by daring to throw away the filters and the foundation and go bare-faced.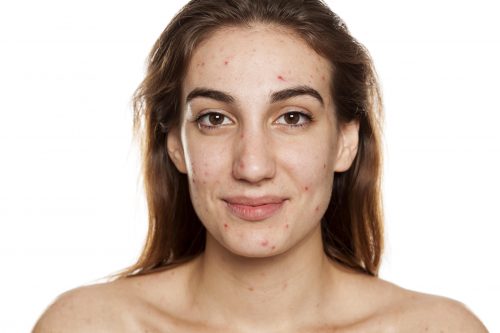 Some say that the acne positivity movement could be traced back to the British blogger Em Ford, who posted a Youtube video in 2015 called "You Look Disgusting". In the video Em showed herself with and without makeup, and shared a series of hurtful comments which had been directed at her when bare-faced with her acne visible. The video gained 10 million views in its first week alone and messages of support and admiration flooded in.
Others who have notably followed bare-faced suit and joined the acne positivity movement include Hailey Wait (a Colorado Instagrammer), Kadeeja Khan (a British beauty blogger), and celebrities, from the likes of Lorde to Kylie Jenner.
The acne positivity movement isn't just about acne though. It's about being comfortable in your own skin, and embracing all skin types and skin conditions. Freckles, psoriasis and stretch marks are all starting to be celebrated online. There have also been several magazines and brands who have chosen to use models with conditions such as albinism and vitiligo in their campaigns too.
It's wonderful to see that the acne positivity movement is gathering in pace.