Baby bath time can be the perfect time for you to bond with your little one. Some babies love the water, while others may not be quite so keen, but these tips and tricks will help you and your little one love baby bath time.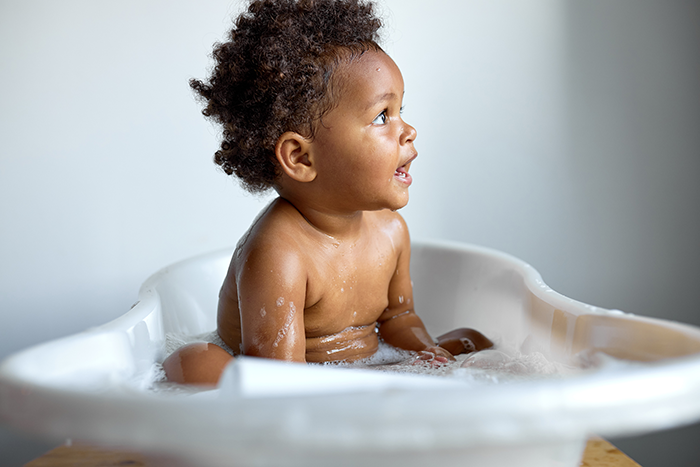 Start On The Right Foot
The first thing you need to do to make sure that your baby's bath time is successful, is to start off right. Set yourself and your little one up for success, and it will help make bath time less stressful. Make sure that the temperature is right for your little one. It could even be a good idea to run the shower first to make sure the bathroom isn't too cold.
You should also make sure that you have everything you need before you get started. The last thing you need is a wet, slippery baby while you fumble around looking for the baby shampoo.
Younger Babies
Younger babies can still get a lot of fun out of baby bath time toys and games.
Toys
Toys like plastic cups and even just a plastic measuring spoon can be lots of fun for younger babies. You should also look for something like a water mill so that your baby can use the cups to dump the water in and watch the moving parts. Floating sea creatures, ducks, and boats are also great for encouraging imaginative play.
Books
Bath books are a wonderful way to bond with your little one during bath time. These waterproof books are colourful, and simple enough for even young babies to enjoy.
Bubbles
If you're going to add bubble baths, foam baths, or any other type of bath product to your baby's bath, make sure that it's suitable for delicate baby skin. Use the foam to encourage your baby to explore different textures, or try a bath safe bubble blower.
Bath Crayons
Bath crayons and bath paints are a fantastic way to explore colour, and let your little one create wonderful, washable works of art.
Textures
Young babies might enjoy exploring different textures in the bath. Things like sponges, facecloths, even foaming soap, and gels can all be fun to use in the bath.
Mirror
Look for an unbreakable mirror that can be used in the bath. Try acrylic mirrors, and make sure that they're in position so that your little one can see themselves.
Older Babies
Older babies may enjoy more interactive toys and games during baby bath time.
Puppets
Baby bath puppets are widely available, and your little one might get a thrill out of creating an in-bath puppet show. Make sure that you use puppets that are suitable for the bath, as regular puppets won't withstand the water as well.
DIY Bath Balloons
You shouldn't use regular balloons in the bath, but you can make your own with ziploc freezer bags. Just fill them with water, and seal them up. You could even add a few drops of food colouring as a way of exploring colour.