Easter isn't just about chocolate, though this might come as a shock to some little ones! It's a wonderful time to spend time with your family. These Easter themed fun activities can be done with just your immediate family, or if you're meeting family outside, as per lockdown rules, they can join in too. They can be tailored and adapted for little ones, or older children, whatever works for you!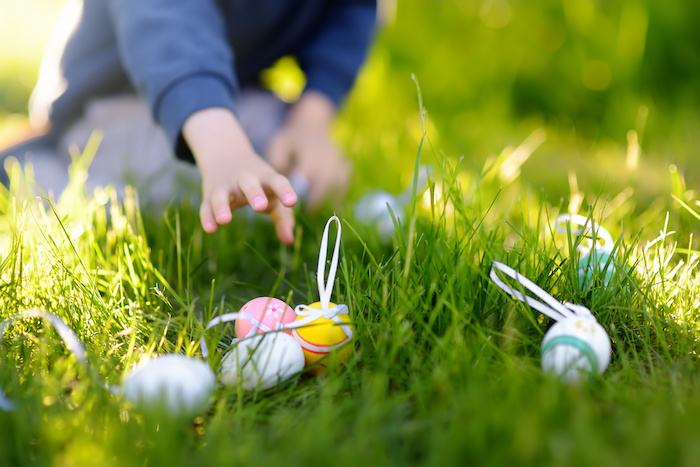 Glow-in-the-dark egg hunt
This is a departure from the typical egg hunt, but it's twice as much fun. Waiting until it's dark outside is a little different, but your children will love it. You can hide the eggs outside or inside. You'll need:
Plastic egg hunt eggs
Treats
Glow sticks
Crack the glow sticks, and put them in the eggs along with whatever treats you're using. Hide the eggs once the sun has gone down, then search for the glowing goodies in the dark!
Easter movie night
Movie nights are always fun, and they're great for getting older children and teens involved. You can make some Easter themed treats, such as popcorn or chocolate, and make a fort on the floor. Try movies like Peter Rabbit, Hop, and Rise Of The Guardians for toddlers. Older children might like movies like Jesus Christ Superstar or The Life Of Brian. Teenagers may enjoy movies like Risen.
Rice Krispie treat carrots
These carrots are easy to make, and all the family can get involved. Use rice krispie treats, and cut or shape carrots, and insert a toothpick. Let them set in the fridge for around ten minutes. As the carrots are setting, you can melt orange coloured chocolate, or orange candy melts (you can find these in baking shops or craft stores). If you can't find these, white chocolate with a few drops of orange oil-based food colouring will work too! Coat the krispie carrots in the melted chocolate, until they're completely covered. Leave them in the fridge for fifteen minutes, and then take out the toothpicks. To make the carrot top, you can put some green laces sweets into the hole the toothpick left.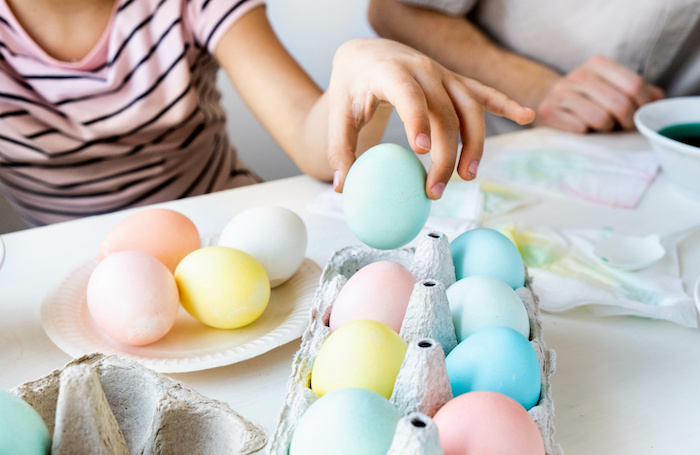 Fizzy egg dying
Dying eggs, and rolling them down a hill, has been a long-time Easter tradition. Dying them with this method is a little more fun. Younger children will be mesmerised, and the older ones can help out. You'll need:
Hard-boiled eggs
Baking soda
Food colouring
Cups
A large plate
Water
Paint brushes
White vinegar
Make your paint by mixing baking soda, water, and food colouring. You can make different colours, and different consistencies. Use a paint brush to paint designs on the hard boiled eggs. You can add on more food colouring and create different patterns and colours on the eggs. Once the design is finished, you pour vinegar on top, and watch it fizz! You can repeat these steps on the egg as often as you want. Once you've finished dying your eggs, leave them until they're dry.
You can roll your eggs down a hill to see which egg reaches the bottom without breaking. You could also use them as Easter decorations, use them for an egg hunt, or try egg and spoon races – so many options!