Cycling is a great way for families to bond, spend time together, and get a bit more active. As children have needed to spend more time online this year, it's a fantastic way to get them away from their screens and interacting with the real world around them. However, many people find it difficult knowing how to get started with cycling for families. Here's a list of what you'll need and what you need to know.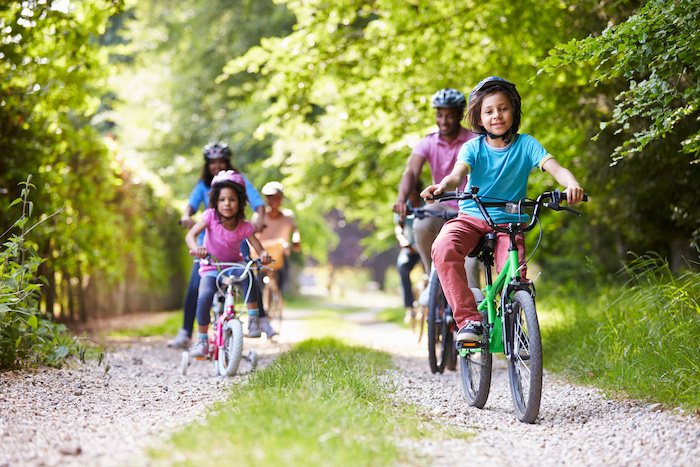 What You'll Need
If you're going to cycle as a family, there's a few things that you'll need. You can buy some things second-hand, such as bikes as long as they are the correct size, but other items such as helmets should always be purchased new.  Any cycling equipment that you already own will need to be checked, and any repairs needed should be carried out.
Bikes
The first thing you need to think about before you can start cycling with your family is a bike.
Adult bikes
When you're buying a bike for yourself, the first thing you need to think about is where you plan to cycle. If you're planning to go off-road a lot, then a road bike won't be what you need. You also need to be sure that the bike is in good working order and is the right size for you. You can buy one new or second-hand. If you aren't sure about cycling, you could look into renting some bikes so you can test out cycling as a family before you commit to a purchase.
Children's bikes
Buying a bike for your smaller family members might seem like a bit of a challenge to get right. There's so much choice, and so much information on which bike is the best. Here's what you need to remember: the bike needs to be the right size for your child. A bike that they will 'grow into' is not a good idea. A bike that is too large for your little one can be very intimidating for them and not easy to ride comfortably and confidently. For your little one's safety, it's always best to get one that is the right size.
Also, check the weight of the bike. Some bikes are heavier than others, so you'll need to be sure that the bike you choose for your children isn't too heavy for them either.
Bike trailer or bike seat
If you have a little one who is too little to cycle themselves, you can still involve them in a family cycle. You can get, or rent, a bike seat or a bike trailer that will go on the back of an adult bike. Always make sure that your little one is comfortable in whichever trailer or seat you choose.
Other Accessories
There are a few other accessories you will need before you can go cycling as a family.
Helmets
Every family member should have a helmet for cycling. Helmets should be properly fitted and meet current safety standards. All helmets should be purchased new from a reputable bike shop.
Kickstand
If your little one is riding in a children's seat, or a trailer, you will need a kickstand. It will need to be strong as it will need to hold up your bike, and the weight of the seat or trailer, and your child. A reputable bike shop will be able to advise you on the weights that different kickstands can withstand.
Where To Go
When you're planning your family cycling adventures, always remember to base any routes around the least able cyclist's ability. If you're looking for a challenge to take on, why not try our Cycle More 90km Challenge? You can get involved and help us to support an amazing charity, Ickle Pickles, and get outside more by cycling 90km as a family over the summer! The challenge can be broken into manageable distances, and your children can track their progress with super fun challenge tracker sheets found on our website here.