Potty training is one of the big milestones in your little one's life. But as a parent, it can seem a little overwhelming. You might have so many questions, or apprehensions about starting the potty training process. Here's a quick guide on what you need to know about potty training.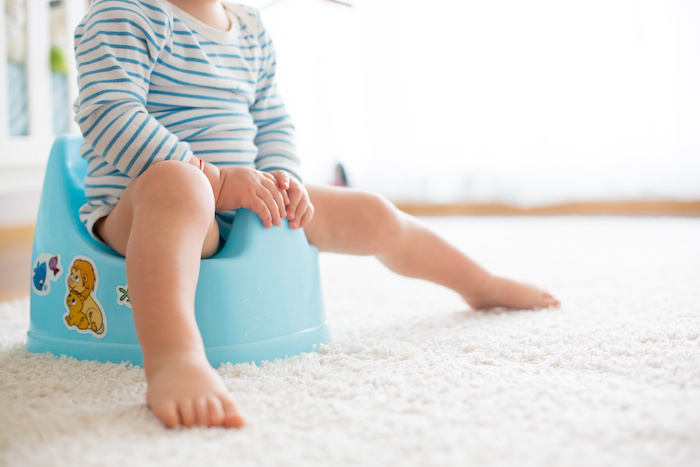 How to tell if your child is ready for potty training?
There are a few signs to look out for that can indicate that your child is ready for potty training.
Your child has a dry nappy for at least two hours at a time during the day.
Your child is usually dry after having a nap.
Your child can follow simple instructions such as 'go to the bathroom'.
Your child is looking for 'big boy', or 'big girl' underwear.
Your child knows when their nappy is wet or dirty.
Your child shows discomfort about having a wet or dirty nappy.
Your child can tell you verbally, or through body language that their nappy is wet or dirty.
How to potty train your child
First of all, if your household is going through a stressful time, such as moving, or going on holiday, then delay potty training for a more stable time. If it's the right time in your home for potty training, then these tips may help you.
Introduce potty training gradually
Begin by talking about potty training. Read age-appropriate potty training books. If you're going to the bathroom, tell them.
Schedule potty training throughout the day
Part of potty training in the beginning is to make it part of your daily routine. Take your child to the potty every two hours, and bring toys, books, or play a game while your little one sits on the potty. Also, make sure that you encourage your child to try to use the potty before you leave the house if you're going out. It can help them get into the habit of going to the bathroom before any car journeys.
Rewards
Children respond really well to potty training reward charts. Perhaps try giving a toy, or small prize after getting five stickers on their chart. You might also need to contain your own excitement when your little one does use the potty successfully. Some children find excessive, or over-the-top praise confusing.
Hygiene Habits
You should make hand washing part of the bathroom routine. You could let your little one pick out their own soaps, or towels, and think up a song to sing during the hand washing process.
Patience
Potty training takes time, and effort. You will need to be patient. Your child will probably have accidents, but you need to be calm. You should also expect a child who is doing well with potty training to have an off day.
What you might need
There are a few items that can help you and your little one through the potty training process.
A potty. If you can, get your child involved in the selection process. If you have more than one bathroom, you'll need more than one potty.
Toilet seat and step. If you want to get your little one straight onto the toilet, you'll need a seat for this. The toilet will feel too large and scary, and a seat can make it feel smaller and more secure. You'll also need a step to help your child get up on the toilet.
Reward chart. Again, if your little one can help choose the reward chart, get them involved.
Choose things that your child will really love. They don't need to be expensive, so look for things like art and craft sets, small toys, and books.
Potty training books. Read books about potty training with your child before you begin potty training, and during the process.
Some children like to go straight from nappies to 'big' underwear, so let your child choose which ones they'd like to wear. Other children might prefer to use pull-up pants first.
Soap and towels. Handwashing and hygiene is an important part of potty training. Bright coloured soaps, or towels with their favourite character might help your child understand all the steps to take when using the potty.