Cycling is a great way to increase your fitness, but it's also a fun activity for your whole family! Although, your children might find it much more encouraging if you can track your cycling success. Here's a few tips and recommendations that will keep your little ones pedalling.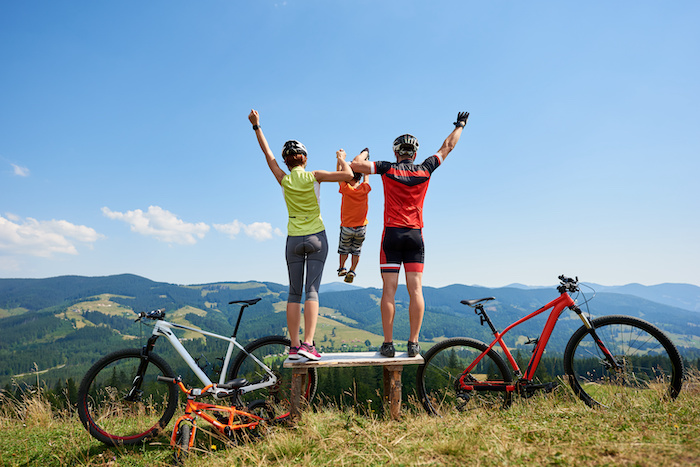 Cycle More 90km Challenge
The Cycle More 90km Challenge doesn't need to be completed by one person, or all at once. You can register as a family, and everyone can do a bit to work towards the goal! There are adorable downloadable charts found on our website, where your little ones can mark off their progress and track the overall family progress. You can also help raise money for Ickle Pickles, a wonderful charity that raises money for premature babies and their families, and the equipment that keeps them safe.
Strava
Strava is one of the most popular apps for cyclists. It has a free and a paid version, but the free version is probably enough for you and your children. It tracks your speeds, times, and distances. Strava is GPS based, so you can cycle with your kids, and it will map out your journey. You can also use it to create art! Get creative with your routes and use the GPS mapping to see what you've created.
FitBit Ace 3
The FitBit Ace 3 is a fitness/activity tracker watch, but it can absolutely help your little one with their cycling fitness. It tracks their activities during the day, and you can change the settings to send them reminders to get moving. It's designed to fit children aged 6+ years, and it's water resistant to 50m. There's a parent view app and a child view app, so your child can see their fitness progress.
Garmin Vivofit Jr 2
The Garmin Vivofit Jr 2 is an activity tracker watch, and it comes in a huge number of designs. There are some block colour ones, but if your little one is a Disney fan, then Elsa, Spiderman, or BB8 are there to keep your children moving! You can set fitness challenges, and even chores, and completing these earns rewards and games. The parent app will show your child just how active they've been throughout the day.
Komoot
Komoot can be used on your browser or you can download it from the app store. It doesn't track your cycling, but it can offer suggestions for suitable routes and bike paths. You can enter your cycling ability, so just keep the fitness level low, and search for routes without an incline. This can be a great way to find new adventures!
Tips to get your little one cycling
One of the things that can put children off cycling is if the bike is too big for them. Always check that their bike is the right size and is in good condition.
Pack a picnic and make it a day trip!
Take photos. You could design a treasure hunt of sorts. Set challenges for your children, and snap pics as you find things like a bird, an interesting stone, landmarks along your route, or different colours.