Most of us have to change our skin care routines as the weather changes and gets colder. Your baby is no different. The cold weather, wind, rain and snow can affect your baby's skin just as much as it affects yours. In fact, it can dry your little one's skin out even more. There are some products that are specifically formulated for your little one's skin, and there are other things you can do to look after your baby's skin in the cold weather months.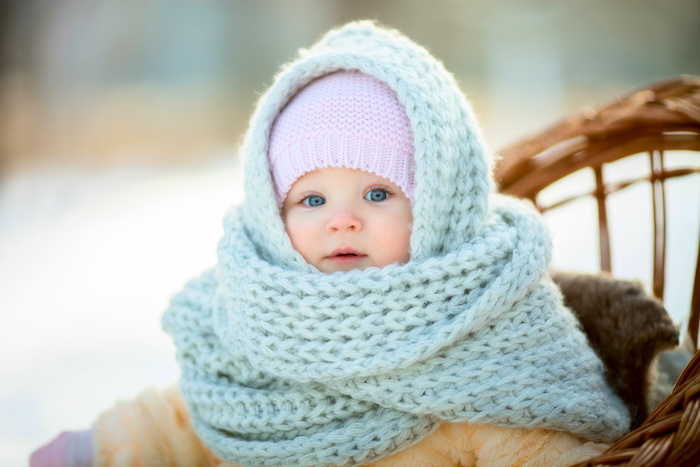 Skin Concerns
During the colder months, you might notice your little one has some changes in their skin, and lips. They can become irritated, red, dry and itchy. This is because the cold winds can have a drying effect on skin. There are some things that you can do to help your baby.
Lips
You might notice that your little one's lips become chapped in the colder months. It's common for babies to have chapped or cracked lips during winter. The air is cooler and more drying, and their mouths are often wet with drool. You can help ease the irritation by using a lip balm with baby safe ingredients.
Dry, Itchy, Red Skin
You might notice that your baby's face and cheeks have become dry. The cold, dry air can dry out any exposed skin. Moisturiser can help ease this irritation and can also help prevent it. You should use a baby-safe moisturiser before you go out in the elements, and when you get back inside. Irritated skin, or skin conditions like eczema may need a treatment cream, such as Sudocrem Antiseptic Healing Cream. Always read the label. If your baby's skin is not responding, you may need to consult with your doctor.
Bathing
There are a few things to keep in mind about bathing your baby during the winter months. First, avoid soaps and bath products that have harsh ingredients, detergents, deodorants, and fragrances. These products tend to be more drying and irritating. You also need to avoid over bathing your little one. If you are giving your baby a bath every day, keep an eye on the temperature. Warm water is better than hot. You should also consider skipping the odd bath, and just giving your baby a sponge down with lukewarm water.
Nappy Rash
Nappy rash can be a real problem during the winter months. Your baby is wrapped up in winter gear, thick sleep suits, and blankets. This can create a humid environment next to the skin, which can contribute to nappy rash. There are a few things you can do to help prevent nappy rash, or treat it when it happens.
Use a good barrier cream such as Sudocrem Care and Protect to prevent and protect against nappy rash and apply it at every nappy change.
After a long car journey, change your baby as soon as you arrive at your destination.
Keep your baby warm when you're outside, but if you take a break and head inside, take off some of the layers.
If you can, factor in some nappy free air time at the end of each day.
If you see the beginning signs of nappy rash, treat it with Sudocrem Antiseptic Healing Cream, to soothe and heal. Always read the label. Early treatment can prevent a mild nappy rash from becoming more serious.
If nappy rash develops into symptoms of broken or inflamed skin, Sudosalve Nappy Rash Treatment Cream can help to heal and prevent secondary infections. Contains Dibrompropamidine isetionate. Always read the label.