Family cycling trips can be great fun. The Summer holidays are a fantastic chance to get the bikes out and explore your local area together. You can find new cycle paths, check out your local areas of interest, and encourage your little ones to get active. Here are some tips that can help make your summer cycling days a little bit easier.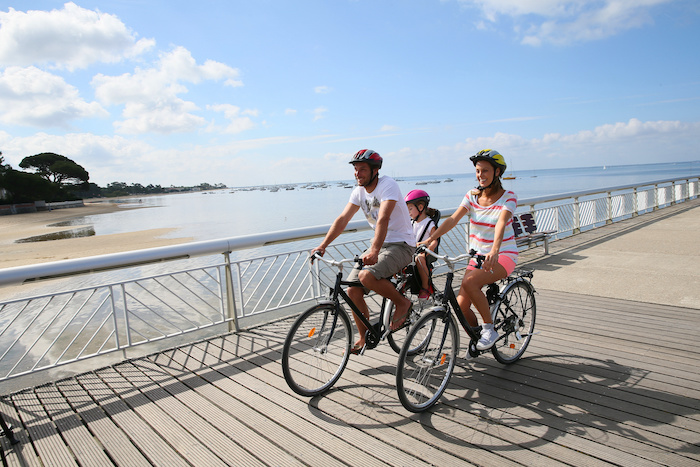 Plan it out
While it might be wonderful for adults to go cycling with no real plan on where you're going, it doesn't work as well when the whole family is going too. You really do need to plan your route. Plan for rest stops in shady areas, especially if the weather is warm and sunny. You'll also need to think about access to toilets or baby change facilities along your route. Make sure not to plan a route that's too long. Plan the length of your route according to the abilities of the youngest, or the least capable cyclist in the family.
Don't forget to rest
Even when you've planned out rest stops, you'll need to make sure that your little ones actually rest. Children will probably want to run around and play in the shade, so you'll need to make sure that they sit down for a few minutes out of the heat of the sun.
Bring sunscreen
You'll need to apply a child appropriate sunscreen of SPF50 before you set off on your cycle, but you'll also need to reapply during a rest stop. Sunscreen should be reapplied every two hours, and possibly more often if your little ones have been hot and sweating.
Refreshments
Even if you're planning to stop somewhere for lunch, pack refreshments. You'll need water for everyone. Make sure that there's a bottle of water on every bike and put a few extra bottles in a backpack as well. You should also bring some sun safe snacks such as flapjacks, bananas, apples, or jelly sweets.
Time it right
Try to time your cycling trip so you can avoid the sun when it's at hottest. Plan to go early in the morning, or later in the evening. Try to avoid cycling between the hours of 11AM and 3PM.
Wear Appropriate Clothing
All members of the family need to wear appropriate clothing for the cycling trip. Look for light layers of natural fabrics, or synthetic fabrics with wicking properties. You want to wear fabrics that will wick or absorb sweat away from the body. You also need to be sure that everyone is wearing light colours, and fluorescent or reflective patches if you're cycling near a road.
Dos And Don'ts
Do plan your journey.
Don't try a route that is too long for your youngest cyclist.
Do wear sunscreen.
Don't forget to reapply on your journey.
Do avoid the sun in the middle of the day.
Don't wear dark clothing.
Do bring water and snacks with you.
Don't forget to stop for rests, toilet breaks, and ice cream.
Do have fun!