Learning to ride a bike is a rite of passage for children of all ages. But as a parent, it can be very nerve-wracking. These tips for new and young cyclists might help you teach your child to ride a bike, while keeping your own nervousness in check.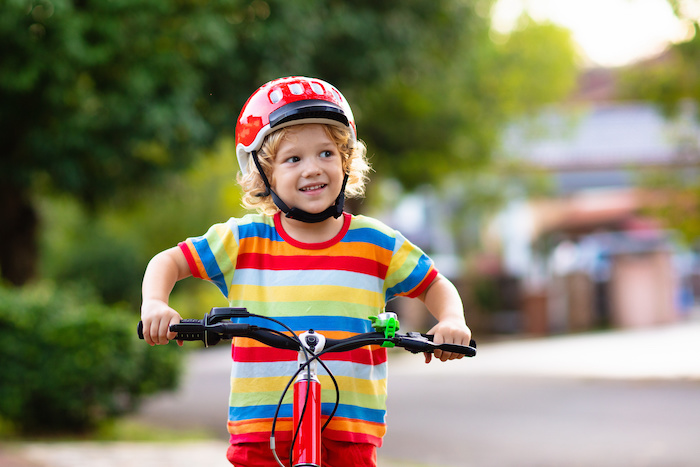 Learning to cycle
When you learned to cycle, you probably started with stabilisers and then a parent held on to the back of the bike while you practised. While this worked for us, there's a new way for little ones to learn to cycle. Start with a balance bike, or take the pedals off a regular bike. This will help your child learn how to balance.
Teach your child to glide along first. They will need to take long steps to keep the momentum. Eventually, they will learn to coast along. Use this opportunity to teach them how to steer as they're gliding.
When they're ready, start by allowing them to practice braking, and learning how to get their feet onto the pedals. The next step is to actually start pedalling! Try not to hold onto the back of the seat, instead let your child take the first steps, or pedals, independently.
Where to practise
Practising is vital to the learning to cycle process, but the street isn't really the best place for it. It's a safety risk, and there's more chance of your child being interrupted by cars, or other people. If you have a garden, use it. If not, try a grassy area, or an unused car park.
Where to go
Riding a bike should be fun, so make the bike trips fun! Maybe have the first big ride end in a trip to an ice cream parlour or shop, when they're reopened. Make sure to keep the age of your child in mind, and plan distances that they would be capable of without becoming too tired.
Safety tips
A top tip for safety is to make sure that the bike is the right size. Your little one should be able to have both feet flat on the ground, and should be able to reach the handlebars without stretching too much. Don't make the mistake of buying a bigger bike, thinking that your child will grow into it. It would be easier for a child to learn to ride a bike that's too small, rather than one that's too big.
Make sure that your child has a helmet, and that the helmet fits properly. Many bike shops have trained fitters who can check the helmet size for you.