Cinema trips are fantastic, but sometimes there's nothing better than getting cosy with your whole family and having a movie night at home. It doesn't matter if you're watching a new movie, or an old family favourite, at home movie nights can make some of the best family nights together. You can read on to find out how to have the best family movie night at home.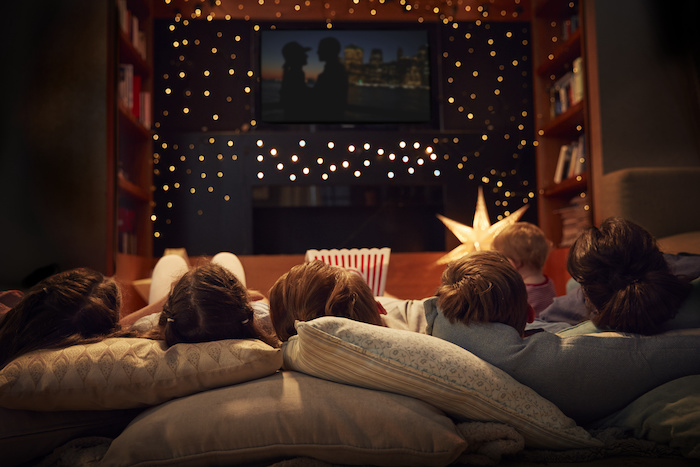 Seating
Organising your seating can be as easy or as complicated as you want to make it. If you have little ones, you might want to set out chairs in the same way as they would be in the cinema. You could have them print out, or draw tickets for everyone, and give one of them the job of ticket collector.
Older children and teenagers might prefer to have beanbags, blankets, and sofas to lounge around on.
Snacks
Snacks are a must to make any family movie night just a little bit better.
Popcorn is a classic for a reason. You can buy pre-popped, flavoured popcorn, or you can pop your own. If you do pop your own, you can also create your own flavour combinations like salted caramel, chocolate, Bombay mix, or sugar and cinnamon. You can even get popcorn buckets just like the ones they have at the cinema.
Chocolate, even on its own is a wonderful movie snack. It's also a great ingredient to make incredibly tasty recipes with. You could make chocolate cupcakes, chocolate rice cereal treats, or even just melt the chocolate and dip pieces of fruit into it.
Nachos are an easy to make at home movie night snack. You can pile on the toppings, and make some dips to go with them.
Screen and Sound
The screen and the sound are two things that make going to the cinema an experience, but you can replicate them at home. You can buy a big screen TV, or an outdoor screen. Another option would be to use a projector and project the movie onto a wall.
The sound can be made cinema style by using a surround sound system. It means that you'll put several speakers in different areas of the room, which will help give that big impact cinema sound. It can mean that you may need to get someone to wire it in, mount the speakers and make sure that everything is working. Another option would be to use a sound bar. It won't give the same surround sound experience, but it does amp up the audio of your TV.
These are all optional extras, of course – you can still have a super fun cinema experience at home without changes or spending money, but you might like to think about it if you enjoy watching movies at home frequently.
Other Tips
Get into comfortable clothes. Lounge wear and pyjamas are perfect for family movie nights. Some families prefer for everyone to get into their favourite pair of pyjamas, while others love to get everyone into matching pyjamas!
Picking a movie can be the hardest part of a family movie night, especially if there's a wide range of ages and tastes to try to accommodate. You can set an age limit and ask everyone to write down their movie suggestion. Put all the suggestions into a hat and select one.
You can set younger children up with colouring pages or ask them to design their own movie posters to put up on the wall.
Set your room up with low lights, and you may want to add string lights to create an aisle.