Cycling with your little one is a great activity for both of you. But you do need to be prepared that cycling with babies and toddlers definitely won't be the same as cycling alone. For one thing, it needs a little more preparation, planning, and you'll probably need a few more stops along the way. We have some tips that can help you and your little one get the most out of cycling as a family!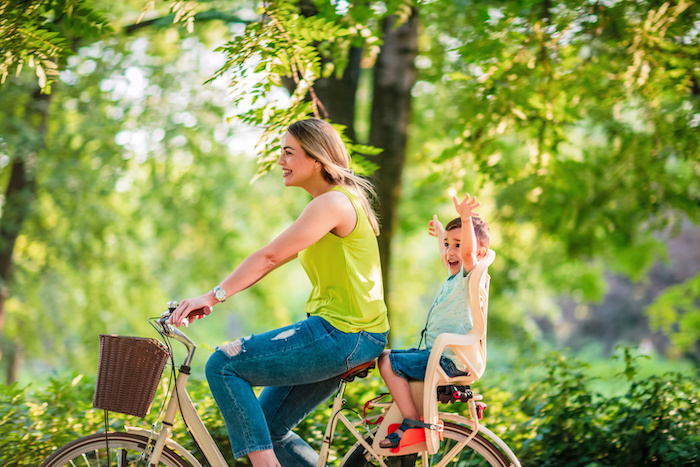 The right seat
The right type of seat is going to be one of the things that makes all the difference when it comes to cycling with babies and toddlers. The right one depends on the age of your little one, their preference, and yours.
Babies Under One
The important things to remember if you want to cycle with your infant are that:
They need to be secure
They need to be supported
They shouldn't be jostled around.
There are essentially two options for parents who want to cycle with babies under a year old. You can buy a cargo bike and secure your baby's car seat into the bucket. The other option is a bike trailer. It attaches to the back of your bike, but if this is the option you choose to go for, make sure you look for one with good suspension, and a roll cage.
Babies Over One
For babies over one, and toddlers, you have a few more options on how you cycle. You can use a trailer, a front bike seat, or a rear bike seat. It depends on what works best for you and your child. A good, reputable bike shop should let you test out bike seats using sandbags, or something for weight. You should also practice cycling with the seat or trailer without your child first.
For both babies and toddler, you do need to be sure that the safety harness is absolutely tamper proof. Make sure that your little one can't undo the straps or buckles.
Quick tips on cycling with your little one
Before you cycle anywhere, encourage your child to wear a properly fitted helmet around the house. It lets them get used to the feeling of the helmet. Try to make sure that when you put the helmet on and take it off, you don't catch them, or nip them.
Start with smaller trips. Small children can get bored easily, so don't try long journeys in the beginning.
Make sure that your child is dressed appropriately. Your child will enjoy cycling more if they're warm, and dry.
Pack snacks and drinks for your child. Hungry babies get cranky and will want to go home.
Stick to well-paved cycle paths and avoid any off-roading as it can jostle your little one around too much.
Other ways to get your child involved
If your toddler is a little older, and is able to ride a bike, or a balance bike, you can get them involved in your bike rides. Just make sure to stick to quiet cycle paths, and only cycle as far as their little legs can manage.
If you and your partner cycle, you may want to consider taking it in turns. One parent cycles, while the other pushes a pushchair. Then switch over.
Another way to get your child involved in family cycling is to cycle for charity. The Cycle More 90km Challenge can be completed as a family, and everyone can do a bit to work towards the goal and to help raise money for Ickle Pickles, a wonderful charity that raises money for premature babies and their families!