Cycling to school used to be really common. Almost everybody rode their bikes to school. These days only 1% of primary aged children cycle to school. However, it's really a great way to make the school run a bit more fun, a bit more sociable, and it might even make things easier for you in the mornings. Here's everything you need to know to get started.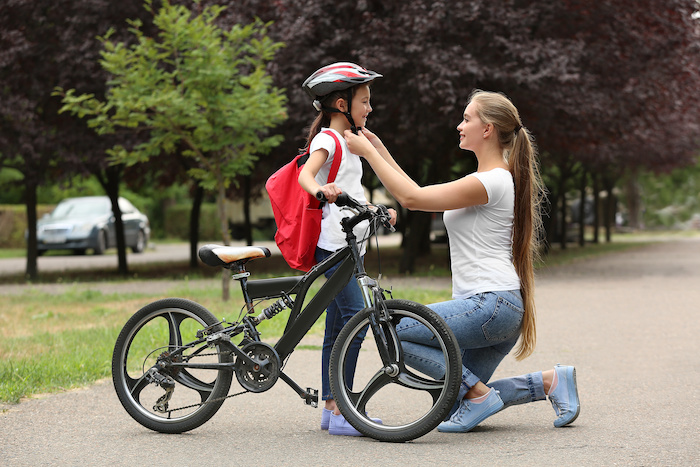 Plan The Route
You won't want your cycling route to be the same as the route you take in the car. You need to plan it along quiet roads, cycle paths, or off-road paths. Practice your planned route beforehand, so that if there's any part of it that concerns you, you should have time to come up with an alternative.
Make Sure You Have The Right Bikes
Check your children's bikes and make sure that they are right for them, in good condition, and appropriate for the route you have planned. The bike needs to be the right size for your child, comfortable, not too heavy, and everything needs to be in good working order. If you need to get new bikes for your little ones, always try to go to a reputable shop where your child can test out the bikes. They'll also be able to give you proper advice, and make sure that the bike is in good condition.
Cycle Training
Some schools or community groups may offer children's bike training. If you feel apprehensive about your little one's ability to cycle safely, enrol them in a road safety cycle training course. They offer courses for all age groups, so you might want to consider taking an adult cycling course as well.
Practise As A Family
Your children will need to practise their cycling skills, and there's no better way to do that than as a family. If there's one adult, cycle behind your child. If there's two adults, have one cycle in front, and one cycle behind. Stick to small, manageable trips, and plan your trips around the cycling ability of your youngest, or least capable member.
Find Cycle Friends
Find some cycle friends in your child's school. It can be fun for your little one to cycle with their friends and other adults as a group. Cycling to school as a group can encourage all the children to be more sensible when cycling on the road, as there's always someone there to keep an eye, and watch the road.
School Involvement
Check with your school as they may have cycle programs, bike sheds, or other cycle events. They may be able to help you link up with other families who want to cycle to school. They may have safe areas for your little ones to leave their bikes during the school day.