Bike riding is one socially distanced activity that can be fun for the whole family! It's great exercise, it gets children outdoors and off screens, and it is a fantastic way to spend quality time as a whole family. A cycling day out can be a really successful family day if you know how to plan bike rides for the whole family.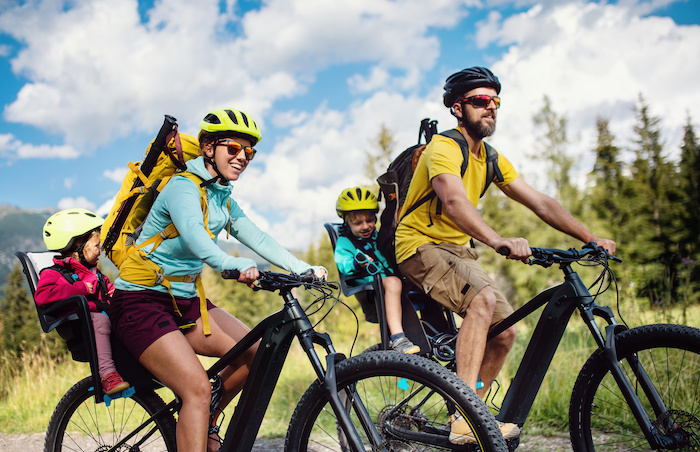 Cycling tips for all the family
We do have a few tips to help keep you and your family safe.
If you haven't been cycling in a long time, you should do the ABC safety check on every bike – air, brakes and chain. Check that all tyres are properly inflated, and that all gears are working. Test brakes to ensure that they're working effectively. Check the chains, and oil them if needed.
You should also check that all children's bikes are the correct size. Some bikes have adjustable seats and handlebars, and these may need to be adjusted to fit better.
You should also remember to check helmets, and any other safety equipment your children use.
Make sure that all your children know the rules you have around road safety.
It could be a good idea to practice in an empty car park, or quiet cul-de-sac. You should practice stops, and riding in single and double file.
Prepare for everything! Pack a bag with light layers for everybody, snacks, drinks, a small first aid kit, a bicycle repair kit, and a picnic – don't forget to pack your My Little Sudocrem!
Cycle More
If you're a bike lover, or looking to get back into cycling/increase how much you get out on your bike, why not join in our 90K Cycle More challenge to help to raise money for premature baby charity, Ickle Pickles?
Just cycle 90K at your own pace and start a fundraising page where your friends and family can sponsor your challenge. It's a great way to get outside and be part of something amazing! Find all the details on our website here: https://www.sudocrem.co.uk/cycle-more/the-90km-challenge/
Where to go
Planning your bike ride will depend on the ages and abilities of all the family members. However, if you have little ones, it would be better to look for routes that are flat and paved. Off-road tracks, and hills are best left until your little ones are bigger and more able for the route.
Here are some of our favourite routes for family bike rides!
England
Dalby Forest, Yorkshire
Dalby Forest has two routes for you to choose from. There's a short 1.7-mile route, and a longer 2.8-mile route. The trail is suitable for cyclists, walkers, joggers, and is wheelchair accessible. There's also a detour to an artificial bat cave, designed as a place for bats to stay during the winter months!
Goosey Foot Tarn Trail, Grizedale, Lake District
The Goosey Foot Tarn trail takes you to two of the man-made tarns in Grizedale Forest. It's one of the easiest trails in the forest, but it is still a forest track, so it may be suitable for older children. There are some slight hills, and the whole trail is 2 miles.
The Phoenix Trail, Thames Valley
The Phoenix trail is on the National Cycle Network. It's 7.5 miles in total but can be done in smaller sections. It's mostly traffic free, but there are some areas where there may be slow traffic. There's also lots of native birds and wildlife along this trail, so keep an eye out for Red Kites.
Scotland
Tentsmuir, East Fife
Tentsmuir is a beautiful mix of coast, forest, and wildlife. There's a 3-mile trail that is suitable for all the family. There are hides along the trail as well, so you can rest while you spot some squirrels, birds and deer!
Argyll Forest Park, Striling
Argyll Forest Park is the oldest forest park in Britain, and it has lots for cyclists, walkers, and adventurers. It has plenty of trails for all abilities and ages, plus an amazing wildlife population, and you might even get to see an otter!
Ben Nevis, nr Fort William
Ben Nevis actually has a green cycle route, which is suitable for beginners and novice cyclists. It's a wide trail, but the ground can be loose or muddy, so it is better for older children.
Wales
Swansea Bike Path
Swansea bike path is a 5.8-mile route along the coast. It follows an old tram line and is completely traffic free. The views are incredible, and it has plenty of cafes, and restaurants along the way.
Afan Valley, Port Talbot
Afan Valley is a 6.9-mile route that takes you to Afan Forest. It's mostly traffic-free and has some fantastic scenery and wildlife. It's a mixed surface route, so it might not be suitable for little cyclists.
Lon Eifion trail, nr Snowdonia National Park
The Lon Eifion trail is a 3.5-mile trail. It's an old railway line, so it's completely traffic free, and completely asphalt surfacing. It's perfect for children of all ages, and abilities. It's also very scenic and has views of the castle.
Northern Ireland
Castlewellan Forest Park, County Down
Castlewellan forest park is stunning and has a well maintained 2.5-mile cycle route. It's beautiful and makes a wonderful family day out for all ages.
Crom. Fermanagh
Crom is home to some of Northern Ireland's rare species, such as the Pine Marten. It has a 3.5-mile route, which is mixed surfaces but can be suitable for all ages if your little ones are confident about off-roading.
Castle Ward Woodland Trail, County Down
The Woodland trail at Castle Ward is a 3.5-mile loop through the woods. It's picturesque, and has mixed surfaces, but is mostly asphalt. There are other activities here as well such as play trails, wildlife, and a shore walk.