Cycling isn't just an activity for you to do on your own. It's a great adventure for the whole family. Everyone from the youngest to the oldest can get involved, spend time together, and get some healthy, but fun exercise. Here's a few ideas for some summer cycling adventures for the whole family.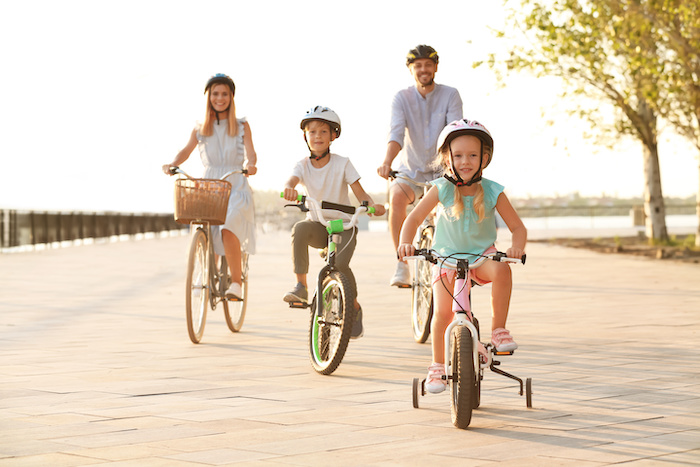 Picnics
Picnics are a wonderful family activity, and they don't need to be massively expensive, or over the top. Try simple sandwiches, wraps, cold pasta salad, or even just a selection of everyone's favourite snacks. You can go as far away from home as your youngest member can manage or stay as close as you want. If there's nowhere near you for a picnic, try going for your usual cycle, and then having your picnic in your garden, or on your living room floor.
Challenges
Set yourself cycling challenges. Make them as simple, or as elaborate as you want. Always try to set challenges that the smallest member of your family can complete as well. You could sign up as a family for our Cycle More 90km cycling challenge. You can break it down into smaller sections and raise money for the Ickle Pickles charity at the same time! You can find tracking sheets at the link above, so that everyone can see how much progress you've made towards your goal.
Cycling Trails
The UK has some absolutely breath-taking cycling trails. Some are for more advanced cyclists, but there are trails that are perfect for families. There's a level cycling trail that follows the River Forth in Scotland with wonderful scenic views. You may also want to check out the Montgomery Canal cycle path in Wales. Your children will be mesmerised by the ducks, dragonflies, swans and buzzards that can be seen along the way. Another option is the family cycling trail in the Forest of Dean in Gloucestershire. It's suitable for all the family, and has picnic stops, heritage points, and the largest population of wild boar in England!
Ice Cream
Everyone loves ice cream. If you have a favourite ice cream shop, use it as the destination of your summer cycling journey. If there's a new ice cream place near you, you could cycle there and let your little ones pick out their favourite flavours!